Power Commanders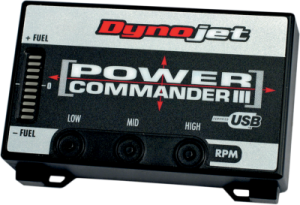 Take full control of your engine management system with the installation of a DynoJet Power Commander from RJS Superbike.
As an Authorized Power Commander tuning centre, RJS Superbike can supply and fit the proven technology of Power Commanders, which when used in conjunction with their advanced Dyno facilities, can fully optimize the performance of your machine, providing crisper throttle response, increased horsepower and optimal fuel consumption.
The Power Commander is a fuel injection (and ignition timing on some models) adjustment unit, that offers adjustment to a bikes fuel and ignition curves without permanent changes to the bikes ECU.
The perfect air/fuel ratio will ensure that the engine can produce the maximum possible horsepower for any given combination.
RJS Superbike are an official authorised Power Commander dealer